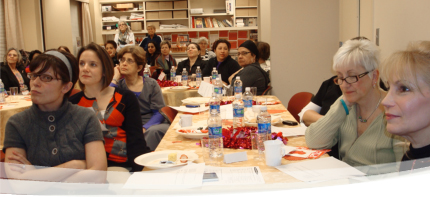 Women's Issues, Breast Cancer, early detection ...

We hold seminars dedicated to women's issues in conjunction with St. Josephs Ambulatory Imaging. The purpose of which, is to educate women on breast health and factors that prevent or contribute to breast and other cancer, detection, treatment and recovery. The women that attend are from all walks of life and are exposed to a wide range of information including lectures, displays and cooking demonstrations for healthy eating. Stressed in these lectures is the importance of regular breast exams, early detection, and consciousness of family history.
Mountainside Hospital ISNJ offers state of the art breast imaging and intervention as part of a new multidisciplinary breast disease program at Mountainside Hospital. Full range of ultrasound, stereotactic and MRI guided biopsies are performed on sight. Results for diagnostic mammograms are given to the patient the same day.
Women's Imaging: In addition to full service breast imaging, we perform pelvic Ultrasound (transabdominal and transvaginal), hysterosonogram, hysterosalpingogram, and MRI specialized for female pelvis including the evaluation of the ovaries, uterus, and fallopian tubes.