Madelyn Danoff, M.D.
Section Chief of Breast Imaging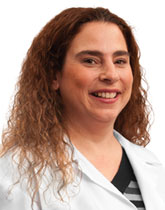 Dr. Danoff attended medical school at the University of Pennsylvania. She did her radiology residency at Columbia Presbyterian Medical Center in New York, followed by a fellowship in women's imaging at St. Barnabas Medical Center in Livingston, NJ. Dr. Danoff is American Board of Radiology certified.
Dr. Danoff is experienced in all areas of breast imaging including mammography, ultrasound, and MRI. She also has experience with all types of image-guided breast biopsies including stereotactic, ultrasound, and MRI.
Locations