Patrick J. Conte, M.D.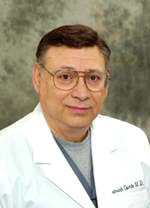 Patrick J. Conte, M.D. graduated from Stritch School of Medicine of Loyola University, Chicago, IL. Dr. Patrick J. Conte trained in Radiology and Nuclear Medicine at Upstate Medical Center, SUNY, in Syracuse, NY. He is certified by the American Board of General Radiology, the American Board of Nuclear Medicine, and the American Board of Diagnostic Radiology with Special Competence in Nuclear Radiology. He is the former Chief of Nuclear Medicine at Saint Barnabas Medical Center in Livingston, NJ, the former Medical Director of the Medical Imaging Department at St. Michael Medical Center in Newark, NJ, and is currently the Chief of Nuclear Medicine at St. Joseph Regional Medical Center located in Paterson, NJ. He has special expertise in FDG PET/CT scanning, and radioactive iodine (I-131) treatment of hyperthyroidism and thyroid cancer.
He has had many research articles published in the Medical and Radiologic journals, and he is the radiology editor of the textbook entitled, Effective Medical Imaging, Williams and Wilkins Publisher.
Locations