Bhanu Aluri-Vallabhaneni, M.D.
Section Chief of Neuroradiology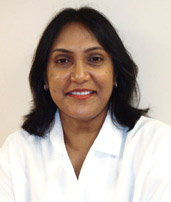 Dr. Aluri completed medical school education in India. Her training includes a Internship in Medicine at St. Joseph's Regional Medical Center, Diagnostic Radiology Residency at Harlem Hospital of Columbia University and a comprehensive two year Neuroradiology Fellowship at the Neuroscience Institute at Presbyterian Hospital of Columbia University.
Dr. Aluri is Board Certified in Diagnostic Radiology and (CAQ) certified in Additional Qualification in Neuroradiology. She is a keynote speaker in the annual St. Joseph's Stroke Conference. She specializes in Imaging of the Brain, Spine, Head, and Neck. Dr. Aluri has a special interest and expertise in Pediatric Neuroradiology.
Dr. Aluri is certified by the American Board of Radiology.
Locations