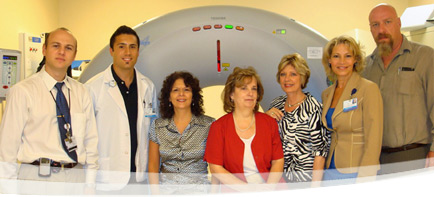 Imaging Subspecialists of
North Jersey
All radiologists are American Board of Radiology (ABR) certified. Our radiologists trained at some of the top Medical Centers in the country, including Weill Cornell Medical Center, NY Presbyterian Columbia, Brown and University of California in San Diego.
We Provide Teleradiology Subspecialty Services! Contact us
Women's Imaging: We provide a full spectrum of women's imaging including digital mammography, ultrasound (breast, abdomen and pelvis), hysterosalpingography (HSG) and breast MRI. Our experienced, highly trained mammographers perform ultrasound guided, stereotactic guided and MRI guided biopsies of the breast. We offer screening and diagnostic mammography with personalized attention given to each patient.
Cardiovascular/Heart: Our two Level 3 certified and Cardiovascular Board Certified radiologists interpret Cardiac/Coronary artery CT angiograms performed on our 64 slice scanner at Ambulatory Imaging, Clifton, NJ and our 64 slice dual source scanner at Mountainside Hospital.
Musculoskeletal: Three Fellowship trained Musculoskeletal Radiologists perform all MSK services including: MRI and CT, including 3D images (all joints: finger, wrist, hand, elbow, shoulder, hip, knee, ankle, foot, toes, spine, sacroiliac joints etc.), 
x-ray, MRI arthrograms, joint pain management/injection (shoulder, hip, knee, ankle, wrist, thumb, sacroiliac, acromioclavicular etc.). Biopsies of bone and spine are performed at St. Joseph's and Mountainside hospital. Hip US (ultrasound), US guided procedures performed at Clifton office, St Joseph's Hospital and Mountainside Hospital. Dynamic patellar tracking study / patellofemoral dysplasia. We hold CMRS (Clinical Magnetic Resonance Society) certifications in MRI of Brain/Neck, Orthopedics, Spine and Body. We do over 600 joint injections a year, including steroid injections and contrast injections for CT and MR arthrography.
Neuroradiology: Three radiologists with Certification of Added Qualification (CAQ) in neuroradiology, in addition to American Board of Radiology (ABR) certification. MRI and CT of the brain, head, neck, spine, peripheral nerves. MRI spectroscopy, perfusion and functional MRI. Advanced Neuroimaging of brain, IACs (Internal Acoustic Canal), pituitary, seizure, neck, brachial plexus and spine imaging. Advanced stroke imaging including CT perfusion. MRA/MRV (MR angiogram and venogram) of the carotid, subclavian, vertebral and intracranial (brain) vessels (arteries and veins). We hold CMRS (Clinical Magnetic Resonance Society) certifications in MRI of Brain/Neck, Orthopedics, Spine and Body.
Interventional: Four fellowship trained interventional radiologists performing all interventional procedures including vascular access and full dialysis related procedures as well as CT, US and fluoroscopy, image guided procedures and biopsies. This service is offered at St. Joseph's Medical Center, Mountainside Hospital and VAC (outpatient Vascular Access Center facility).
Pediatrics: Full diagnostic pediatric imaging is performed by a fellowship trained radiologist. US (ultrasound), MRI, CT with radiation dose reduction, fluoroscopy, GI (gastrointestinal) and GU (genitourinary) diagnostic procedures, x-rays. This includes MRI and CT procedures performed with sedation monitored by board certified anesthesiologists at St. Josephs Hospital. We perform congenital pediatric cardiac / chest MRI and MRA (MR angiogram) imaging.
Body imaging: Fellowship trained radiologists. Procedures include: MRI, CT, barium / fluoroscopic studies, Virtual colonoscopy, CT enterography (Cat Scan of small bowel). US (including gallbladder, biliary tree, liver, spleen, kidneys, prostate, urinary bladder). MRI enterography (MRI of small bowel and colon) We hold CMRS (Clinical Magnetic Resonance Society) certifications in MRI of Brain/Neck, Orthopedics, Spine and Body.
Nuclear Medicine: All aspects of Nuclear Medicine are performed including: PET/CT, Thyroid, Bone, Body, Neuroendocrine, Thyroid nuclear medicine treatment.
Community Outreach Programs

(PAST) Pain Alternatives, Solutions & Treatments - Professional football players go out on Sunday afternoons to adulation of adoring fans where they risk life and limb to provide amazing entertainment. Many end up drug addicted, crippled and broken without medical insurance... read more

Cardiac Outreach to 1st Responders, helping save the lives of those that are there to save ours Perhaps 9/11 is responsible for the realization that 1st responders, Police, EMTs, and Firefighters put their lives on the line doing a job that can result in serious injury or death for these dedicated professionals. read more

Womens Issues, Breast Cancer, early detection - We hold seminars dedicated to women's issues in conjunction with St. Joseph's Ambulatory Imaging Center. read more