Romulo Baltazar, M.D.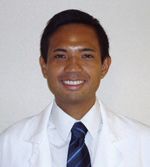 Dr. Baltazar graduated Phi Beta Kappa from Carnegie Mellon University
and attended medical school at the Mount Sinai School of Medicine in New York City. He worked as a resident under Dr. Javier Beltran of Maimonides Medical Center and as a musculoskeletal radiology fellow under Dr. Donald Resnick of the University of California in San Diego.
Dr. Baltazar specializes in all areas of musculoskeletal imaging including musculoskeletal MR imaging, MR arthrography, CT imaging, and radiography. Dr. Baltazar is registered in Musculoskeletal Sonography (MSK). He is experienced in arthrography for the injection of steroid or for the injection of contrast material for subsequent CT or MR arthrography.
Dr. Baltazar has published several articles in academic radiology journals and has authored three textbook chapters on musculoskeletal MRI.
Locations